Medtech4Europe Final Conference
Guarda le foto dell'evento: LINK
Il CLuster TAV- TEchForLife e Regione Lombardia organizzano la conferenza finale del progetto europeo Medtech4Europe – Optimizing the impact of public policies in favour of research and innovation facilities in the field of medical technologies, che si terrà il 15 giugno, dalle ore 10.00 alle 13.00, presso l'Auditorium Testori di Palazzo Lombardia (Milano).  Dalle 9:15 Exibition & Networking.
Apertura di Assessore all'Istruzione, Università, Ricerca, Innovazione e Semplificazione di Regione Lombardia.
Scarica l'agenda: LINK            Pagina TAV di progetto: LINK           Website di progetto: LINK
Guarda la conferenza finale del progetto MedTech4EU in streaming:
Consulta il minutaggio del video con i nomi dei relatori: LINK
Con piacere vi comunichiamo che, grazie alla collaborazione del Cluster TAV – Tech For Life e Regione Lombardia, l'ente regionale ci ha concesso uno spazio in un'area collocata all'altezza dell'ingresso per accedere all'Auditorium Testori, da dedicare alla presentazione di alcuni prototipi, prodotti e servizi innovativi del partenariato/stakeholder coerenti con mercato medtech.
Guarda le video interviste agli espositori TAV realizzate dal Cluster TAV:
Dirk Plees, Province of Limburg
Luca Azzolin e Ilenia Lovato, MoxOff
Matteo Girondini e Luca Pieri, MIBTEC
E' stata una GRANDE OPPORTUNITA' per partner TAV di presentarsi con l'Ass. Sala e pubblico internazionale. 
Hanno invitato propri collaboratori/partner/clienti/stakeholders e fatto networking con PARTNER INTERNAZIONALI che operano su MEDTECH, in ottica di collaborazioni e nuovi progetti
importante occasione per dare un segnale forte a Regione Lombardia dell'importanza delle progettualità MEDTECH con le specifica vista del Cluster, anche (ma non solo)  in considerazione dell'uscita dei bandi, ma soprattutto della programmazione a cui il Cluster partecipa sempre attivamente, grazie al fondamentale contributo dei partner.
E' stata un' 
PASSA IN RASSEGNA LE NEWS PUBBLICATE PRE-, DURANTE E POST EVENTO SUI MEDIA REGIONALI E SU TERRITORIO NAZIONALE: LINK
MedTech brings life-enhancing technology to Milan
https://taysay.com/medtech-brings-life-enhancing-technology-to-milan/
An important day organized by Medtech4Europe on the occasion of the final conference, an international event, entitled: "From the TAV Cluster – TechForLife: Challenges and opportunities for the Medtech sector". Workshops and visits to the exhibition are scheduled, starting at 9.15 am.
The final event of Medtech4Europe
The appointment is June 15 at the Testori Auditorium, Piazza Città di Lombardia, 1 in Milan. The inauguration of the day will be organized by Cristina De Captain, Cluster Manager of TAV – TechForLife, then the introductory speech of the representative of the research department of the Lombardy Region. Next, those of Maurice Crippa, President of Custer TAV – TechForLife, Giuseppe BanfiScientific Director of the IRCCS Galeazzi, Ana MihaljevićPolicy Officer of the Interreg Europe Joint Secretariat, Celine Questerproject manager Auvergne-Rhône-Alpes Region.
Next, work and debate tables will be held, while it will be possible to visit the exhibition space for innovative prototypes, products and services of the alliance and linkage with the stakeholders of the Cluster and the Project.
The event as a whole represents a privileged moment of comparison and networking for future new projects with local and international partners operating in the medtech sector, of which the Foundation of the Lombard Regional Cluster of Technologies for Living Environments (Cluster TechForLife-TAV ) is a flagship for the system and our territory. It will be a great opportunity to identify areas of common interest and therefore future opportunities for collaboration (research projects, internationalization, etc.) for all, partners and visitors.
Participation is free, prior registration HERE
What to see at the Medtech Expo
To better understand the potential of what will be featured, just scroll through the description of a few projects.
There are FLOKY or biomechanics applied to the human body.
Floky Technology, which is capable of transferring the principles of biomechanics to the human body through tissue thanks to the design, study and development of screen-printed applications of external silicon with a high technological content; These are very advanced structures that speed up recovery, in addition to preventing injuries, also offering greater stability.
How SPATIAL3 with FLANAT Research Italy, of which he is CEO Mark Bernasconi: which is about a new healthier and more sustainable food system.
With SPATIALS3, which involved major research centers and companies in the creation of an innovative supplement, a synbiotic enriched with purple corn extract was created, the efficacy of which is being evaluated through a complex and far-reaching clinical trial, in the Four different clinics participated.
There is also a rehabilitation glove fruit of Gloreha's commitment.
The project that began more than fifteen years ago, in Lecco, when Idrogenet Srl, founded by 11 SMEs in the Lumezzanese district (BS), decided to finance the development of this technology. Today Gloreha is internationally recognized, it represents a whole range of robotic and sensorized solutions, used daily to support the neuromotor recovery of patients".
In the same context there PhiCube: a robotic device for the bilateral rehabilitation of the upper limbs.
It is capable of adapting to the different movements of the upper limb thanks to its particular design, and of adjusting the level of assistance to the patient based on their specific neuromotor skills. PhiCube is portable, to accompany the patient even outside the clinic, and attractive, to promote neuroplasticity thanks to the active participation of the user during the recovery phase. Presented by Matteo Malosio Researcher CNR-STIIMA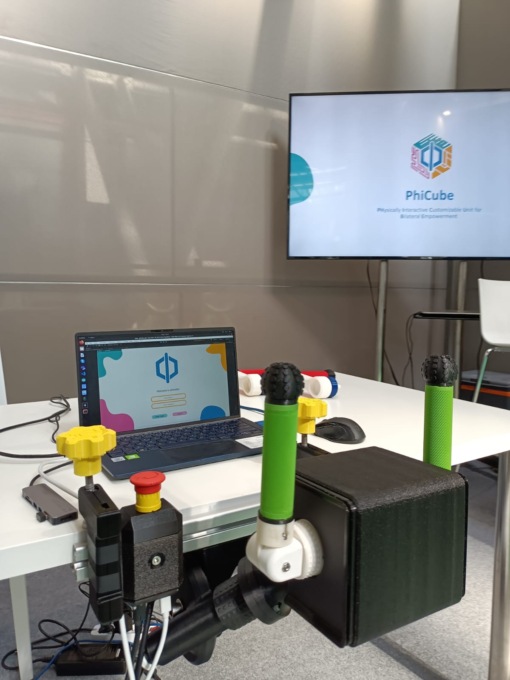 Among the exhibitors there are also Moxoff with luca azzolin who is a developer of mathematical models.
Moxoff is a spin-off company of the Politecnico di Milano, founded in 2010, that develops innovative solutions based on data science, AI, mathematical modeling and optimization. Moxoff has carried out more than 300 projects and transversal solutions in various business areas. In the Medtech context, Moxoff operates in translational and precision medicine, personalized diagnostics and specialized treatments for each patient, exploiting the fusion of mathematical simulations, data science and Artificial Intelligence.
Also on draft list MATHEMATICAL BIOLOGYcarried out by an R&D executive who hasRaphael Maccioni as CEO
The challenge here refers to the disruptive possibility of allowing early non-invasive diagnoses of important pathologies, as well as favoring precision medicine techniques. Metabolism is the set of biochemical reactions. The presence of symptoms and diseases is linked to dysmetabolism, or altered reactions that biotechnology and artificial intelligence can measure and evaluate. Through the Deep Metabolism Assessment (DMA), crucial information is provided to clinicians by complementing and enriching traditional diagnostic tests.
But there is also electronic medical record software "The.0": is the answer to the organizational, logistical, documentary and administrative needs of each residential and domestic facility.
The.0 is not traditional software, but rather a project in continuous evolution, in accordance with the needs expressed by the user community, the social and health system, regulatory requirements and technological progress. The data, widely collected and stored in the electronic medical record, represents the ideal starting point to exploit tools based on AI algorithms to support the decision-making process of doctors and nurses. Through predictive suggestions, the app helps define the best care path for each guest and patient. To present it is NETPOLARIS Srl
SMART and Touch-ID finally, Astir Srl is THE HUB that launches a new challenge: Remember to remember: intelligent solutions for cognitive, social and functional improvement.
The goal is innovative solutions for the rehabilitation of cognitive functions involved in planning, learning and memorizing activities of daily living. It is about finding technological solutions that support the implementation of ecological rehabilitation scenarios that realistically reproduce activities of daily life, potentially ideal for the recovery and/or maintenance of cognitive, social and functional functions of daily life and for the participation of frail people.